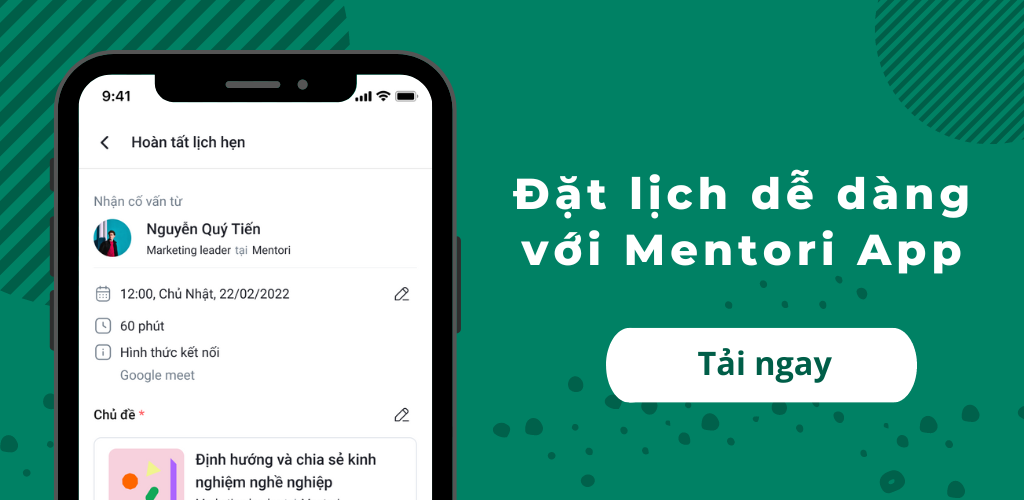 Senior Organization Development Specialist cum Senior Human Resources Business Partner tại PNJ Group
Chương trình mentoring của NGUYEN DANG PHUONG TRINH
Định hướng và chia sẻ kinh nghiệm nghề nghiệp
Senior Organization Development Specialist cum Senior Human Resources Business Partner
tại PNJ Group
Định hướng và chia sẻ kinh nghiệm nghề nghiệp
Senior Organization Development Specialist cum Senior Human Resources Business Partner
tại PNJ Group
Nội dung chia sẻ:
Tôi sẽ giúp bạn hiểu môi trường, văn hóa công ty: 
 + Tổng quan về công ty, lĩnh vực, vị trí trên thị trường
 + Sứ mệnh của công ty, vai trò của công ty trong chuỗi giá trị
 + Lộ trình thăng tiến, cơ hội nghề nghiệp sau này
 + Văn hóa công ty
 + Chính sách đào tạo và phát triển nhân tài

Tôi sẽ chia sẻ với với bạn kinh nghiệm làm việc thực tế:
 + Ý nghĩa của công việc, công việc đóng góp như thế nào cho xã hội
 + Công việc thực tế tại công ty
 + Các stakeholder bạn sẽ làm việc cùng (sếp, đồng nghiệp, khách hàng, đối tác, v.v.)
 + Những điều học hỏi được từ công việc, những điều cần cải thiện để làm việc tốt hơn, các yếu tố dẫn đến thành công trong công việc này

Tôi sẽ chia sẻ với bạn kinh nghiệm ứng tuyển:
 + Các kỳ ứng tuyển trong năm
 + Những điều cần chuẩn bị trước khi ứng tuyển (chuyên môn, kỹ năng mềm, network, tinh thần, thái độ)
Previous
Next
Giới thiệu bản thân
An HR Generalist with high responsibility, commitment, integrity, and sincerity and on the journey toward being an enthusiastic HR all-rounder.
Kinh nghiệm làm việc
Senior Organization Development Specialist cum Senior Human Resources Business Partner

PNJ Group

Senior Organization Development Specialist

PNJ Group

Responsibility assignment and approval matrix
• Manage the development and operation of the responsibility assignment and approval matrix of the whole company: Identify and analyze the needs, coordinate and collaborate with stakeholders to clarify the scope of work, roles, workflow system, etc. to ensure operational efficiency.
• Lead innovative solutions towards speed, flexibility, autonomy, efficiency, and optimization.

Performance management system
• Implement and improve the operations of the performance management system throughout 2020 and 2021.
• Develop & deliver diversity communication & change management strategies to ensure employees understand the process, competency model, their respective roles and complete the evaluation effectively (utilize available communication channels, program champions, HR open dialogue, training sessions, employee story-telling, etc.)

Organization structure and Job description design
• Coordinate the process of building the organizational structure, coordinate with HRBP to analyze needs, assess resources, the scope of work and responsibilities, etc. to ensure optimal resources and efficient operations of the function units.

English Teacher

Pixar English Centre

• Design and operate lesson plans for students from 4 to 12 years old.
• Prepare coursework, assignments, and reports for the class.
• Hold conferences with students to keep them on track as necessary and meet with parents or guardians to discuss students' academic progress, remedial issues, and behavior problems when necessary.

Senior Human Resources Generalist cum Assistant to CHRO

PNJ Group

Human Resources' efficiency & performance management, and assistant to CHRO
• Human Resources analysis, dashboard & report: Coordinate HR functions to provide data, gather required information, compile statistics, and formats; perform various special studies and projects, and prepare monthly/ quarterly/ yearly reports to the Executive Board; provide insight, forecast risks, identify points to maintain/ improve and propose solutions.
• Manage HR KPIs/activities/tasks, coordinate and prioritize workflow to support the CHRO and HR Center of Expertises (COEs); provide leadership to coordinate the work of the HR COEs and the CHRO; perform a variety of related support tasks for the CHRO as necessary.
• Discuss, prioritize, review calendar and events daily with the CHRO and HR COEs to assure timely and appropriate coordination of offices, activities, and status of assigned projects; prepares preliminary responses to correspondence for CHRO's approval.
• Review complex documents, records, and correspondence for accuracy, completeness, and compliance with applicable rules, regulations, policies, administrative procedures, and legal requirements.
• Maintain and coordinate CHRO's and and HR COEs' appointment calendars, oversee travel and meeting arrangements for the CHRO.
• Ad-hoc support to additional assignments and ongoing projects, as needed.

Employer branding: Increase 275% in reach, 838% in post interactions, 695% in video views, 106% in page like compared to the previous month.
• Lead, coordinate and implement short-term communication plans for Vietnam Best Place to Work, VNHR, and Employer of Choice Campaigns.

Human Resources Management Trainee

PNJ Group

One of the 24 qualified management trainees among nearly 5,000 candidates recruited to a 2-year fast-track leadership development roadmap (70% developed through job rotation and functional or cross-functional projects; 20% through mentoring and coaching; 10% through training courses).
Job rotation during two years:
1. Main function: Organization Development
2. Sales Department & Sales consultant/staff
3. Supply Chain Department: Product planning and forecasting, Product strategy.
4. Human Resources Department: Talent Acquisition, HR Business Partner (both Supporting Centers and Sales)

Regional Manager of Teaching Assistant

Apax Leaders

• Manage the Teaching Assistant recruitment and selection process throughout Ho Chi Minh City, Bien Hoa City, and Binh Duong Province.
• Arrange and manage the schedules of Teaching Assistants.
• Train, coach and develop performance and achievements of Teaching Assistants.
• Associate with Vietnamese or non-Vietnamese direct reports in people management and learning activity development.

HCMC Manager of Teaching Assistant

Apax Leaders

Teaching Assistant

Apax Leaders
Quá trình học tập
University of Finance & Marketing - UFM

University of Finance & Marketing - UFM Bachelor's degree, Business English
Tên giải thưởng
PNJ Employee Of The Year - 2021

Excellent Achievement Award 2020

Partial Scholarship of "Lead The Change - Exchange Trip 2020"

Have been selected to receive the Scholarship of Lead The Change 2020 Exchange Trip – overseas training programs that provide essential entrepreneurship training, international mentorship, and connections for young leaders aged 18-25. This is a platform for them to discuss concerning social issues and eventually drives them to collectively solve problems by actual projects and become tomorrow's change-makers.

Runner-up of the "The hien tai nang" Programme

Issued by Center for Foreign Affairs and Languages Training (CEFALT) in HCMC
Kỹ năng & chứng chỉ
Certificates of completion in HR Professional Series – Phi&P by Nong Vuong Phi:
o HRBP – Excellence HR Business Partner
o HR Reports with Power BI
o Employee Experience
o Man Power – Assessing Organizational Competence
o Succession Plan – Building succession team
o Design Thinking in HR
Certificate of completion in Project Management Professional – Atoha by Nguyen Si Trieu Chau.
Hiện chưa có đánh giá nào