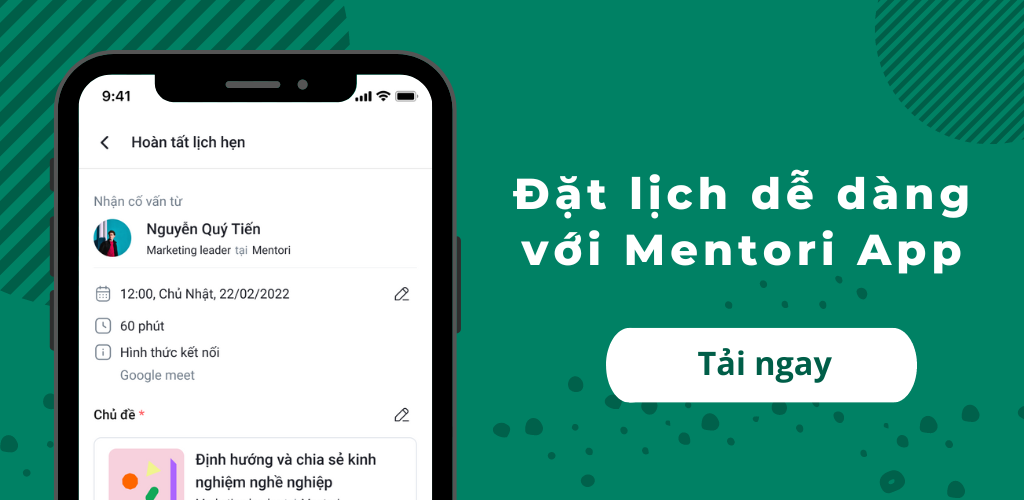 Chương trình mentoring của Nguyễn Thu Bình
Giới thiệu bản thân
I am a motivated, adaptable and responsible person seeking for a professional position in Finance.
I am open-minded, patient and supportive towards other people, and I can effectively build good relationships with others quickly.
I am good at time management, remaining positive and calm under high pressure workload and I have experience in working with data analytics.
Kinh nghiệm làm việc
Internal Auditor

Vietcombank

Implement audits relating to Treasury activities, risk management,...

Garp ambassador in Viet Nam

Global Association of Risk professionals (GARP)

Certified FRM since 2018

Risk Management Analyst

Vietcombank

• Middle Office - Market Risk Management Department - Risk Management Division
- Monitor business actitivities of Treasury Department (Bond) and ALM Department (Money market)
- Develope content for Deliverables of "Accomplishing Market Risk Management framework under Basel II requirements" Project
- Member of Basel 2 Program PMO

Senior Officer

VPBank

• Business Finance Centre – Finance Division
- Analyze performance for Investment Banking, Markets and Treasury Divisions

Interpreter

Global Language Services Ltd

• Translate Vietnamese- English for NHS, Police, Home Office, Solicitors and Social Workers case by case.

Strategic Analyst

Techcombank (TCB)

• Analysis Centre– Strategy and Corporate Development Division
- Analyze movement of macroeconomics and business operation of competitors.
- Make reports based on requests from Board of Management, Board of Directors

Personal Assistant

Techcombank (TCB)

• Personal Assistant to Head of Markets, Banks and Investment Banking Risk Management
- Support in Pricing Model for Wholesale Banking Transformation Project
- Do administration work and translate documents

MIS Officer

Techcombank (TCB)

• Business Finance Centre – Finance and Planning Division
- Analyze performance by daily and weekly reports for Large Corporate Banking Division (FX transactions, Loan, Deposit, Accounts)
- Analyze performance by monthly reports for Transaction Banking Division (Business Analysis, Fee Income, Cash and Trade Products)

Collaborator

2! Magazine

Write articles about students' life (interviews, soft-skills, fashion,...
Quá trình học tập
WorldQuant University

Financial Engineering

Grade: 89%

University of Strathclyde

International Banking and Finance

Grade: MERIT
• Principles of Finance (70%), Accounting and Financial Analysis (63%), Quantitative Methods of Finance (85%), International Financial Markets and Banking (57%), Topics in Corporate Finance (64%), Financial Management of Banks (65%), Derivatives and Treasury Management (83%), Risk Management of Banks (67%), Empirical methods in Finance (70%)

Foreign Trade University

International Business

Grade: Very Good

The Institute of Internal Auditors (IIA)

Pass CIA (certified internal auditor) part 1

Global Association of Risk professionals (GARP)

Passed level 1 and level 2
Hoạt động ngoại khóa
Ca Tru Thang Long

Translator

Arts and Culture
• Promote for concerts, sell tickets and introduce traditional music in English for foreign audiences
• Student of Tru Singing (traditional music) and Long Zither (traditional instrument)
• Manage Volunteer Recruitment for reservation of Ca Tru – world intangible Cultural Heritage
• Odon Vallet Scholarship for contribution to protect and develop traditional music in 2012

AIESEC

Member of Project based on Exchange Team

- Work with interns coming from other countries to build content for Project, contact with schools and universities in Ha Noi, develop working plan for the team.
- Plan and execute campaigns for Promotion and Delegation, work with Media Channels (kenh14.vn, VnExpress.net, etc).

AIESEC in Odessa

Exchange Participant

• Work with interns from over 10 countries to run Summer Camp Project in Schools, introducing Viet Nam Culture to international friends, delegate of Annual Conference of AIESEC Ukraine.

Tomorrow Entrepreneurs ClubTomorrow Entrepreneurs Club

Head of Organization Board

• Plan and execute plan to organize an annual event named "Kawai Start–up Business" (sponsored by General Engineering- Japan) about career– oriented, entrepreneurs spirit and start– up business competition for economics students in Northern Viet Nam
• Manage 20 team members and train soft skills for new, existing members

USGuide Organization

Head Of Logistics

• Conduct plan for logistics with the budget of $3,000 for workshops "YOU CAN DO IT" IN 2011 and 2012
• Manage " Volunteer Recruitment" for workshops
• Build content, invite guest speakers to share experiences
• Support Media Team by contacting with television channels (VTC and VTV6)
Tên giải thưởng
3rd Prize in National Start–up Business Competition held by Viet Nam Chamber of Commerce and Industry (VCCI)

Associated with Foreign Trade University
"Green me" Project– Educational Centre for children through taking care of plants and animals

Encouragement prize on National Physics Examination for Grade 12

Associated with Ha Noi - Amsterdam Gifted High School
Kỹ năng & chứng chỉ
Languages
- English: IELT 7.0
- Japanese: bằng B
Visual Basic for Applications (VBA)
Applied Data Science I: Scientific Computing & Python (with honors)
WorldQuant University
Issued Jun 2021 · No Expiration Date
Financial Risk Manager (FRM®)
GARP FRM ProgramGARP FRM Program
Issued Feb 2018 · No Expiration DateIssued Feb 2018 · No Expiration Date
Em đã học được rất nhiều điều ý nghĩa sau buổi cố vấn. Em cảm ơn mentor rất nhiều ạ.